This week I finally picked up my ticket to fly to Quito. The airline's office was in an industrial office park. Of course there was no parking in the lot (the crabby security guard blew his whistle at me when I parked there.) so I had to park on the street about a block up, right on a curve. Kelly and I were pretty sure we were going to get broad-sided while we were backing out, but thankfully the fireman driving the huge truck stopped in the middle of the street to talk to someone on the sidewalk. With that nice wall of protection we zipped out and headed to our next destination.

Now that I actually have my ticket in my hot little hand, I'm starting to get very excited. Four weeks from today I will be in the sky (with my packed lunch, can you believe they charge 15 euro/$20 for this?)

Now I can start dreaming about all the stuff I will try to cram into 11 days! Of course there will be lots of baby cuddling, (my nephew Emiliano) trying to see as many people as I can, eating all my favorite Ecuadorian foods, (don't even get me started down that path!) going to a few of my favorite places, visiting Mom's grave, watching a billion movies with my brother and whatever else we come up with.

I cannot think of going back to Ecuador for very long without getting choked up. I mean, really, how can you not get attached to a place like this? I miss the green. There are mountains here in Madrid, but everything is dry, dry, dry.



Cotopaxi


Quito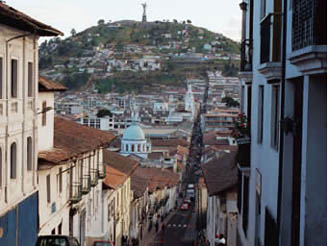 Quito

I admit it, when I was growing up and my parents would be presenting slide shows of Ecuador while we were on furlough, I almost

always

cried when I saw the pictures and heard the music. Yeah, yeah, I cry during Hallmark commercials too, and when I watch people reunite at airports.