We arrived home on Saturday. Staff conference was great as always, but we came home tired from staying up too late, not having warm enough clothes (I could not get my mind out of Madrid temps when I packed!) and having to get up at 5:30 on Saturday morning to catch our flight.
Our topic this year was "The Divine Expedition," a journey through the book of Romans. It was a great analogy for life as church planters, and one that I plan to keep in mind for me personally during the next year.
I was privileged to be on one of the worship teams this year with my two Kellys (Crull and Wills) and it was an amazng experience to sing with a full band (AND smoke machine!) behind us. Here are a couple of photos.

Our team during our report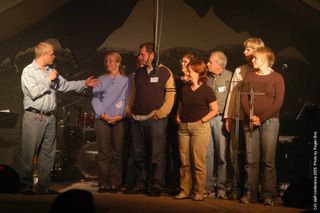 We are all happy to be back sleeping in our own beds. The dog came home from the kennel this morning and is pathetically pleased to be home. (Although the ungrateful thing shows it by getting in the garbage just now!)